High Quality of Life
Low Tax Rate - Low Crime Rate
Located in the northwest corner of Winston County in the State of Alabama, the city of Haleyville has a population of roughly 4,100 people. The city is located approximately 60 miles south of the Quad-Cities area, 90 miles northwest of Birmingham, and 75 miles north of Tuscaloosa. The city is bordered on the west by Marion County and on the north by Franklin County. The main vehicle traffic thoroughfares in and around the city of Haleyville are AL HWY 5, AL HWY 129, and AL HWY 195. Industries and private citizens alike utilize Haleyville's 5,000 foot runway at the Haleyville Airport. Haleyville has its own city school system that is considered one of the better school systems within the State of Alabama. The city also offers excellent recreational facilities and programs.
Haleyville answers the call as
An Alabama Community of Excellence
Haleyville provides an amazing diversified economy. Local manufacturers engage in the following areas of manufacturing goods, which are used locally, statewide, and on a national level: metal fabrication and welding, manufactured housing supply, cabinet manufacturing, bedding, furniture manufacturing, sleeping bags, wholesale synthetic flowers, flatbed trailers, casual outdoor furniture, wood doors, wholesale lumber, and automotive engines.

Haleyville City Schools
Motivating, Educating, & Achieving Excellence
Haleyville City Schools is fortunate to have the support of its residents and numerous local businesses. The residents of Haleyville believe in quality education for their children and have demonstrated that belief by supporting the school system since its inception. Parents are active in their support of school functions by participating in booster clubs, PTO, school events, and school volunteer programs. Haleyville City Schools is proud to be a part of such a supportive community that understands the value of education.
Learn More About #LionPride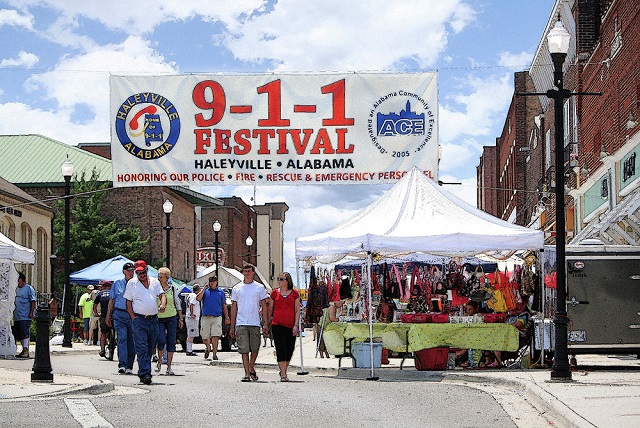 Join Us Every June as We
Honor First Responders
We welcome you, your family, employees and friends to join us as we celebrate the First 9-1-1 Call and our First Responders. Our family friendly festival includes something for everyone: Arts/Crafts/Merchandise & Food Vendors, Free Kids Zone for ages 12 & under, Cornhole Tournament, The 9-1-1 and First Responder Awards, Open Mic Saturday (with many local artists and groups performing), Saturday Morning 5K Color Fun Run, Classic Car Show & Antique Tractor Show, Haleyville Alumni & 9-1-1 Festival First Responders Parade.
The Fastest Internet in Alabama
has arrived in Haleyville
Tombigbee Communications, a subsidiary of Tombigbee Electric Cooperative, provides world-class, ultra-high-speed fiber optic internet and HD phone services through its freedom FIBER services in Haleyville. Together, we promote connectivity and increased quality of life through affordable access to ultra-high-speed broadband internet and Voice over IP (VoIP) services. There is a critical need for access to high-speed internet in order to thrive in the years ahead, which is why we are making this transformational investment.