High Quality Healthcare
Close to Home
Lakeland Community Hospital is a locally managed hospital serving the citizens of Haleyville, Alabama and surrounding communities. One of only five 5-Star Rated Hospitals in Alabama. LCH is equipped with some of the most advanced medical technology available today. These tools help doctors diagnose and treat a wide variety of medical conditions faster and with greater precision than ever before.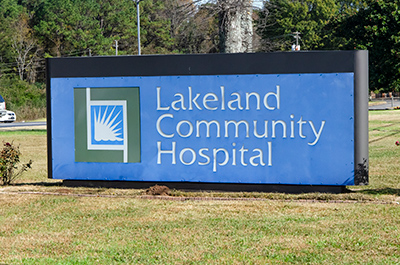 LCH is committed to providing high-quality medical care in a friendly hospital environment. Our medical staff includes skilled physicians representing a wide range of medical specialties. You'll find the desire to help others in the hearts and minds of our caring and experienced nurses, medical technicians and support staff.
See How Haleyville United to Save Lakeland
Lakeland Community Hospital
42024 AL-195
Haleyville, AL 35565
(205)486-5213
Lakeland Community Hospital, a Joint Commission-accredited 49-bed facility, serves as the sole healthcare provider for Winston County. Lakeland holds a 5 Star Rating from the Centers for Medicare and Medicaid on their quality outcomes.   The hospital has a 24-hour emergency room and provides a comprehensive range of diagnostic services to include laboratory, radiology, CT, respiratory therapy, EKGs and EEGs. Other medical services include:
Medical/Surgical – 26 bed unit and a 4 bed Intensive Care Unit
Swingbed Program – offers patients access to either acute or skilled nursing facility level care
Lakeland Senior Care – a 9-bed inpatient behavioral health program for seniors age 55 and older designed to treat issues common for senior citizens to include depression, anxiety, aggression, combative behavior, etc.
Pathways to Recovery – an inpatient medical detoxification and recovery unit designed to treat withdrawal from alcohol and drugs and to prepare the patient for referral to outpatient and/or long-term programs.
Northwest Home Health – a team of qualified staff offers patients the opportunity to recovery from an illness or injury in the comfort of their home using a customized therapeutic plan of care based on the individuals needs and under physician supervision.
Lakeland Diagnostic Center – offers outpatient diagnostics to include digital mammography, MRI, nuclear medicine, ultrasound and bone density.
Clinics – Jerry Harrison, M.D. Family Practice, Lakeland Family Practice, Haleyville Pediatrics
We strive to make the patient experience as pleasant, convenient and comfortable as possible. Most importantly, we're here to help you get well, stay healthy, and get your life back to normal as quickly as possible.